How can QuickBooks Online elevate your business's financial efficiency?
Introduction:
Have you ever wished that managing your business' finances and accounting was as easy as ordering a pizza online? Well, thanks to "Bookkeeping services Quickbooks", it can be.
Quickbooks is an innovative accounting software that simplifies financial management for small and medium-sized businesses. With its easy-to-use, intuitive interface and powerful features, Quickbooks has become one of the go-to solutions for many small businesses looking for an effective tool to get their finances under control.
Whether you are new in bookkeeping or aim to improve your business's financial management, QuickBooks can assist in easing the burden. Keep reading to discover the awesome possibilities this software brings into your financial life.
Key takeaways
QuickBooks Online is a cloud-based accounting software used by businesses of all sizes.
It has features such as invoicing, online banking integration, cash flow management, multiple-user access, time tracking, and reporting.
The benefits of using QBO software include automated data entry, streamlined processes, real-time reporting, secure data storage, cost savings, an easy-to-use interface, and customizable features.
Logging in to Quickbooks Online Accountant is easy and secure, allowing you to manage your accounting records from any device with a web browser.
Professional Outsourced bookkeepers can help streamline your financial operations with QuickBooks Online.
What is Quickbooks Online?
Quickbooks Online is an online accounting software program for small businesses. It allows you to easily manage your finances, track expenses, and get insights into how your business is performing.
Quickbooks Online also offers powerful tools to help you accurately prepare financial statements analyze data trends, and plan ahead.
For businesses looking to streamline their processes, Quickbooks accountant online offers a range of features to help get your business organized. With its easy-to-use interface, you can set up invoices and track payments, run payroll, and manage accounts receivable.
You can also connect with other financial services like banks, credit cards, and payment processors to make sure everything is synced up.Additionally, it also provides access to real-time information anywhere, anytime.
With its mobile app, you can access your financial data on the go and make sure that all of your records are up-to-date. Reporting is also made easy with Quickbooks' in-depth analytics, giving you insight into how your business is performing.
What type of businesses can use Quickbooks accountant online?
QuickBooks Accountant Online is designed to be used by a variety of businesses, including sole proprietorships, small businesses, and medium-sized enterprises. It can also be used by non-profits and government agencies to manage their finances.
Whether you are a freelancer, an online store selling products worldwide, or a brick-and-mortar business, QuickBooks Accountant Online can help you stay organized and on top of your financial tasks.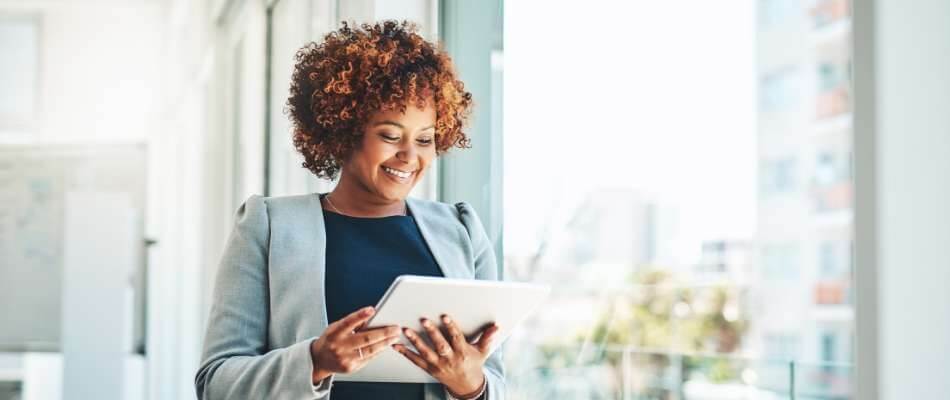 What are the different features of Quickbooks for accountants online?
The different compelling features include the following:
Cloud accounting:

With Quickbooks Online, you can easily access your accounts, manage your finance, and stay organized anytime, anywhere on your mobile, tablet, or computer.

Invoicing:

The software allows you to create custom, professional invoices, sales receipts and estimates that you can send in minutes to clients.

Online banking:

With QuickBooks Online accountant software's banking integration feature, your statements and transactions will be automatically updated, so you always know where your money is going.

Accounting reports:

The software allows you to instantly observe how your business is performing with customizable reports and dashboards.

Cash flow management:

The software also helps you to add a vendor's bill and notify you when it's due. You can also schedule recurring payments to save time.

Multiple users:

Quickbooks Online allows you to take total control of your books with its robust roles and permissions, enabling convenient collaboration by inviting your accountant for easy access to your books of accounts.

Track time:

Streamline your business operations by tracking employee time and billable hours effortlessly. Easily track clients' or employees' billable hours and automatically add them to invoices.

Accounting reports:

With QuickBooks Online, you can always stay connected to your financial records with the convenience of mobile apps available on both tablets and smartphones. Stay informed no matter where you are.

Free unlimited support:

If you ever feel overwhelmed with running your business, it is important to note that there is unlimited free support from QuickBooks online. A team of professionals is available to assist any time you need it.
Our packages are affordable and in tune with the level of virtual bookkeeping services we offer to Australian businesses
Fixed fee packages
What are the benefits of using Quickbooks Online for bookkeeping purposes?
The benefits of using QuickBooks Online for bookkeeping purposes include:
Automated data entry:

QuickBooks Online streamlines the bookkeeping process and can help eliminate common bookkeeping mistakes. Data entry and transactions are automated, reducing the chances of manual entry errors and improving accuracy.

Streamlined processes:

QuickBooks Online helps to streamline processes, such as invoicing customers and tracking expenses. It also allows you to integrate with other software programs, such as payroll, CRM, and time-tracking systems.

Real-time reporting:

QuickBooks Online provides real-time reports that can be used to monitor the performance of your business. This helps to ensure that you are making accurate and informed decisions about your financials.

Secure data storage:

All of your data is securely stored in the cloud, helping to ensure that your sensitive information is safe from hackers and other cyber threats.

Cost savings:

Using QuickBooks Online saves time and money by eliminating the need for additional staff to manually enter data. This can help to increase efficiency and make the process of bookkeeping outsourcing more cost-effective.

Easy to use:

QuickBooks Online is designed with a user-friendly interface, making it easy to use and navigate through the various features. This makes it easier for users to quickly get up and running with their bookkeeping processes.

Data accessibility:

All of your important financial data can be accessed from any device with an internet connection, making it easier to access when you are away from the office. This increases flexibility and allows for remote bookkeeping processes.

Accurate financial reports:

QuickBooks Online helps to create accurate financial reports for businesses, enabling them to make informed decisions about their financials. This helps to ensure that businesses receive accurate and up-to-date financial information.

Customization:

QuickBooks Online can be customized to fit the unique needs of your business, allowing you to tailor reports and invoices to your specifications. This makes it easier to manage your bookkeeping processes and helps to ensure accuracy.

Support:

QuickBooks Online provides access to customer support staff in case you ever require assistance. This can help to ensure that your bookkeeping processes are running smoothly and that any questions you may have are answered promptly.
How does bookkeeping services Quickbboks support customers, sellers, purchasers, suppliers, and investors?
QuickBooks provides support to a variety of stakeholders through its bookkeeping services. These services are designed to assist customers, sellers, purchasers, suppliers, and investors in following ways: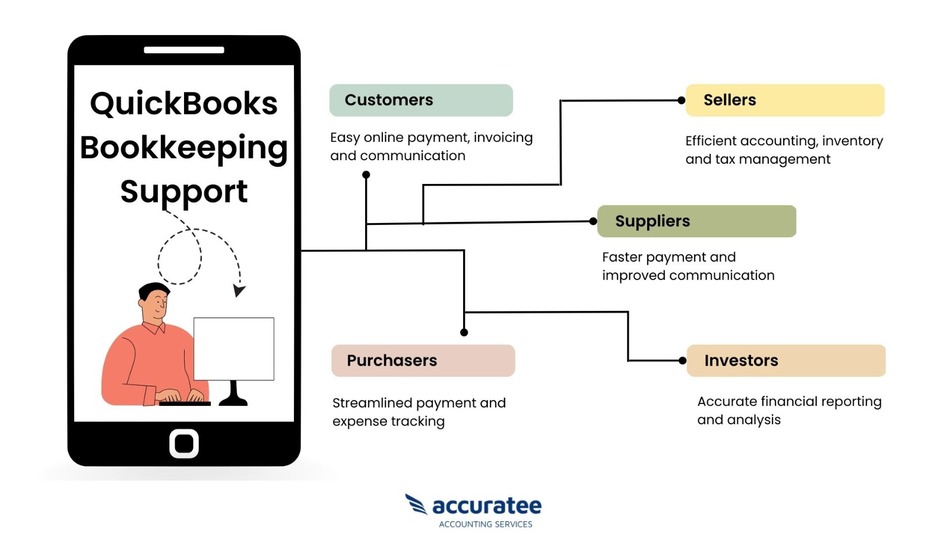 How to log in to Quickbooks online accountant?
Logging in to Quickbooks Online Accountant is quick and easy. All you need is an account with the service, and then you can access it from any device with a web browser.
Simply go to the QuickBooks online accountant login page and enter your username and password. Once logged in, you can manage your accounting records, invoices, financial report, and more hassle-free.
With the convenience and speed of Quickbooks for Online Accountants, you'll quickly be on your way to quick, accurate bookkeeping.
How Accuratee's experienced bookkeepers help you streamline your financial operations with QuickBooks online?
The experienced bookkeepers at Accuratee have the skills and expertise to help you streamline your financial operations with QuickBooks Online. Our team can make sure that all of your data is accurately entered in a timely fashion and we have solutions to fully integrate QuickBooks into businesses of any size.
We understand how important it is to keep track of your finances, no matter what industry you're in. Whether it's budgeting, cash flow management, payroll management, or creating financial reports, our team will ensure that you are utilizing QuickBooks for maximum efficiency.
Furthermore, we provide ongoing customer support and training so that you can take full advantage of our online bookkeeping service for small businesses. With Accuratee as your bookkeeper, you will never worry about keeping accurate records again.
Ending note
QuickBooks Online is a versatile, cloud-based accounting software that can be used by businesses of all sizes.
While its features and functionality are admittedly robust, many business owners struggle with finding the time to properly utilize QuickBooks Online to its full potential. This is where Accuratee comes in.
Our team of bookkeeping experts will work with you one-on-one to streamline your financial operations using QuickBooks Online, helping you to bring your business to the next level.
Contact us today and get started on the path to financial success!